Sutro, Inc
Regular price
$798.00
Sale price
$598.00
Unit price
per
Sale
Sold out
The best of both worlds! Get the Sutro Water Monitoring system + HASA Liquid Feeder™ at an exclusive price ($200 off), only found here.

About Sutro Water Monitoring System
Sutro floats in your pool and monitors your water quality 24/7. Meanwhile, Sutro's app delivers prompt notifications and instructions to keep your pool or spa healthy and clean.
How does HASA's automatic liquid chlorine dispenser work?
The feeder is a proactive way to daily dose the simple effectiveness of HASA Sani-Clor® in your pool. The system uses no additional electricity and reduces the need for frequent pool drainings. The result: a clean, clear pool without unnecessary additives.
The HASA Liquid Feeder™ uses a simple technology that is better for the environment.
As an added value for purchasing Sutro + HASA Liquid Feeder™, you can get one free gallon of Hasa Sani-Clor when you buy 4 at your local pool store in California or Arizona. 
Why HASA?
Share
View full details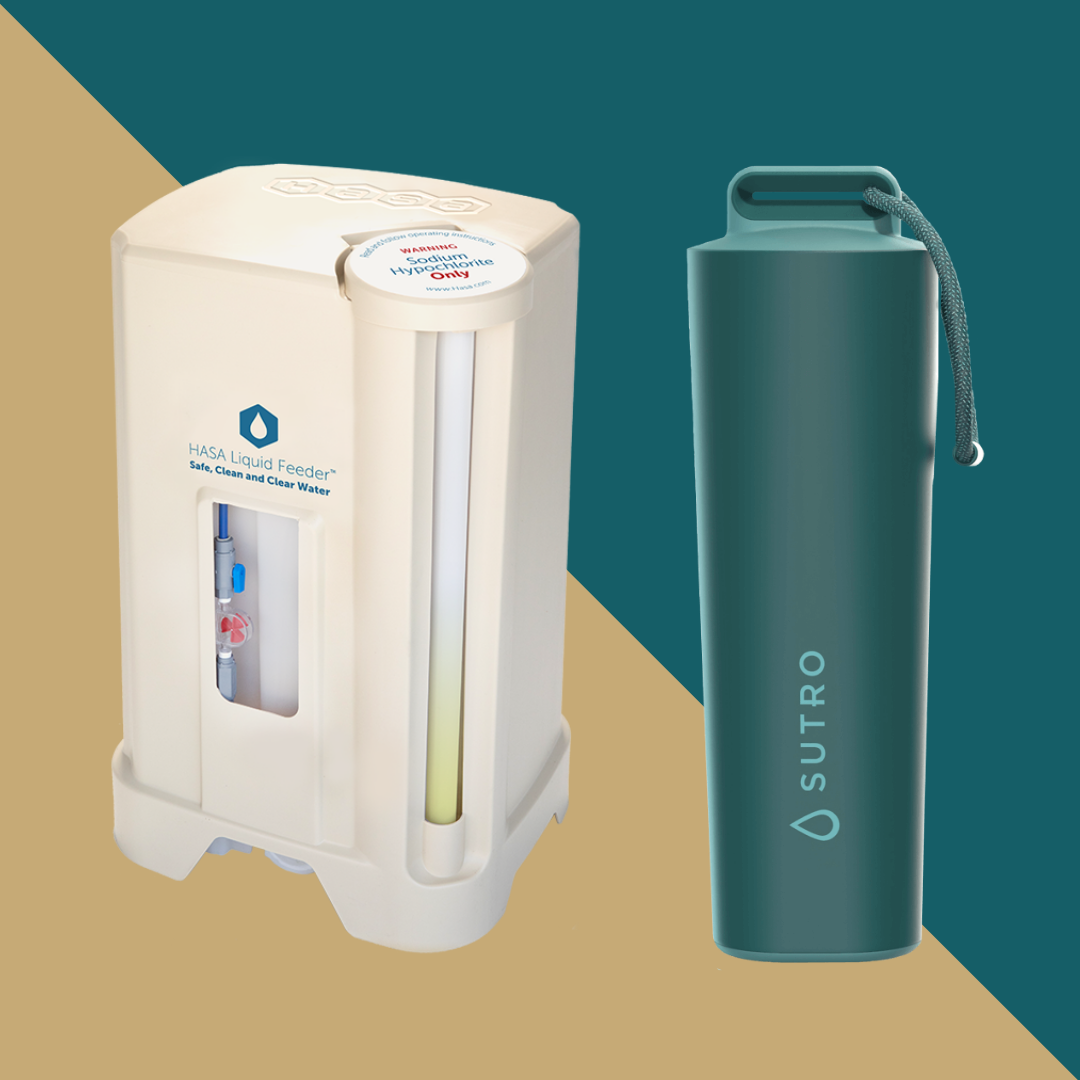 MEASURE YOUR WATER CHEMISTRY AND KEEP YOUR POOL (OR SPA) CRYSTAL CLEAN AND SAFE FOR SWIMMING!
How Does It Work?

The Sutro Smart Water Monitor makes it easy to maintain a perfectly balanced pool or spa without having to fiddle with water samples, test strips, or messy test kits. Simply drop the monitor into your pool and check your phone for up-to-date readings and advice for balancing its water chemistry when necessary.
Why Sutro?

Sutro saves you time and money. The app sends you quick readings 3x/day so you always know your exact pool chemistry. Never add in chemicals that your water doesn't need.
Requirements

All you need is a pool or spa and an internet connection for Sutro to work. Our device works great with chlorine, salt water, mineral, and bromine pools and spas.
Pricing

Today, you will purchase the Sutro Sytem for $499. Once you receive your device, you will be able to choose premium ($39/mo) or basic ($29/mo) service within the Sutro App. This includes the cost of monthly cartridges shipped to your doorstep.
Customer Service

We're on standby. Sutro's success team is available at the click of a button to solve your water problems.
"I ordered one and I can't wait to use it in my pool. This will save me from having to go out every morning checking water balance. Plus, I don't know what I'm doing if the water gets too imbalanced. I'm super excited."
Not sure if Sutro is right for you?
Sutro Water Monitoring System for Pool & Spa
Regular price
Sale price
$499.00
Unit price
per
Sale
Sold out
Share
View full details